Click here to view our install gallery.




Government & Municipal (View all sectors)
City of Dallas, TX
City of Denver, CO
City of Winter Park, FL
Bexar County, TX
Dade County, FL
State of Florida
Indianapolis Federal Building
Maricopa County, AZ
New Jersey Highway Authority
United States Postal Service
Pima County, AZ
Reunion Arena, Dallas, TX
US Department of Agriculture


Connect to ARCAT website for system specifications


Follow us on Facebook, Youtube, Twitter and LinkedIn for the best of bird control all across America: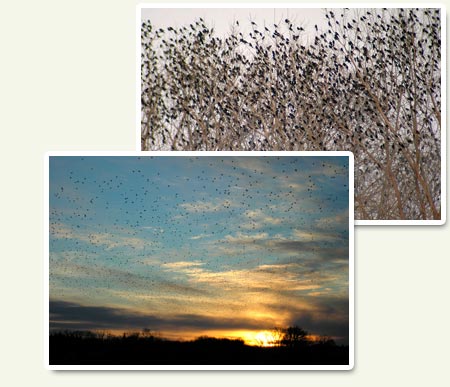 Starling Control and Blackbird Control Experts using AFI's "ACTIVE BARRIER"



The Only Starling Bird Control Service with remarkable results!
20 years of experience, we relocate Starlings safely and effectively
We know what works and when to use it, satisfaction guaranteed
Completely effective methods, adaptable to any public environment
Chemical Plants, Power Plants, Municipalities, Universities, Hospitals, Office Bldgs., High Rise Condos, Hotels, Shopping, etc.

Starlings, European Starlings, Blackbirds, Grackles and other flocking pest birds, roosting in trees at night, infest shade and ornamental trees, soil public sidewalk areas, destroy landscaped areas, and raise health concerns. Within days of beginning our procedure, very noticeable results will occur and the Starling problem will be under control in treated areas. Relocating your problem Starlings and putting an end to your Starlings dropping's problem is easy when you use Avian FlyAway!

Our trained personnel maintain an active barrier no fly zone. Monitoring, subsequent follow up, and preventative maintenance treatments are part of the overall service. Both annual and seasonal contracts are available. Using our service prevents starling dropping's infestation; this allows clients to eliminate the cost of cleaning up nuisance bird poop problems. Avian FlyAway is the proven starling control service to get rid of blackbirds in trees.

With 20 years of experience, Avian Flyaway pioneered pest starling bird control. No other can claim our experience or match our results with roosting blackbirds. We know what works to eliminate overnight starlings roosting and when to use it. We routinely get rid of starlings in trees with exceptional guaranteed results, and frequently replace others unable to get rid of nuisance birds roosting. Our service level commitment and client list is simply amazing.

We are the only company with the experience and know how to simultaneously solve multiple species' avian dropping's problems. We relocate Starlings, Grackles, Sparrows, Cowbirds, Blackbirds, Crows, Dove, Gulls, Canadian Geese and other pest bird species. All relocations are done non-lethally, humanely, safely, and effectively using our Active Barrier proprietary process.

Avian FlyAway, Inc. has been the nationally leading starling control company for over 20 years. Bird control services is our business, every day, all day; we know what to do to get rid of starlings in trees and when to do it.

Avian Flyaway, We are the European Starling Control Experts!