America's #1 Pigeon Control Specialists
Architects & Facility Pros

Bird Control Perfection - The Bird Deterrent System Proven Totally Effective, Permanent, and Virtually Invisible!




Avian Flyaway's Electric Bird Proofing is Simply the Best:


Great Aesthetics

Better Performance

Lower Cost

Engineered to Last - THE ONLY FULL SUN / Full Weather Electric Barrier Available
90% of Our Avian Averting System Installs Last Over 20 Years!




We are the original electric barrier company. Our Avian Averting System is proven much more efficient with its spring tension design.

We install and guarantee our bird relocation systems nationwide. After years of experience, we automatically know what works, and overtime what will not.

Most electric barriers simply are not engineered with an understanding of how electricity works when exposed continuously to the elements. Avian FlyAway's bird deterrent system steadily lasts year after year through Chicago winters and Phoenix summers.

Avian FlyAway's "Spring Tension Wire or Air Insulated Design" product design continuously works year after year. In contrast, arc prone plastic track and plastic tape systems are not economical past a few years in the sun. Because track and tape systems are not open wire or air insulated, this means track systems lie flat on a strip of plastic collecting dust and UV damage. These designs automatically require regular cleaning and maintenance contracts. In addition, the expected life cycle of track and tape systems are constantly limited to a few years because obviously sewing, gluing, or embedding wire conductors onto plastic is unreliable when soft plastic weathers. This fact is extremely important when installing an electric bird repellent using a man-lift, scaffolding, or ladder due to the clear fact that maintaining electric track or tape products overtime becomes costly. In contrast, AFI's "Air Insulated" electric bird barrier is designed to be continuously maintenance free, automatically guaranteeing a much lower life cycle cost. Our Avian Averting System is engineered to last decades without regular cleaning or maintenance.





Only Avian FlyAway's virtually invisible Avian Averting System is engineered to last.




Non-Penetrating Avian Averting System, Tested, Proven, Built to Last

Avian FlyAway has 2 proven non-penetrating fastening options for our Avian Averting System.

1. Spot weld fastening for decoratvie metal and beams, 2. Adhesive fasten ShadeMatch and GlueMaster insulators. Non-penetration with air insulated spring tension 20 year plus performance renders tracks, tapes, and strips totally obsolete!

Over the last 10 years, AFI has perfected our 2 non-penetrating adhesive based options outperforming by decades any other non-penetrating electric barriers on the market. Our adhesive fastening system lasts many more years than any track based system. Our 3rd generation ShadeMatch adhesive fasten system is permanent and lasts decades while being virtually invisible. Over 90% of our systems last more than 20 years; that is simple Dollars and Sense. Now are new 4X Reinforced Insulator introduced in 2015, has been integrated into our ShadeMatch adhesive system, which means our systems may last 30 years or more!

Avian FlyAway - Unmatched Experience - Unmatched Solutions - Unmatched Longevity!

Unmatched experience providing bird control service for pigeons, vultures, grackles, buzzards, crows, gulls, starlings, blackbirds, cowbirds, cliff swallows and other nuisance birds.


Follow us on Facebook, Youtube, Twitter and LinkedIn for the best of bird control all across America:






Historical Structures

Lincoln Memorial
Thomas Jefferson Memorial
Florida State Capitol
California State Capitol
Old Red-UTMB Galveston
US Treasury Bldg Wash. DC
Heritage Hall - Vancouver
Littlefield House - Austin Texas


Healthcare, Government & University

Baylor Health Care TX
Methodist Health Care TX
Presbyterian Health Care TX
Mission Health Care NC
MD Anderson Cancer Center AZ
SMU Memorial Health Center
Phoenix Children's Hospital
St. Mary's Health Center
Laguna Honda Hospital CA
UT SW Medical Center
Stoney Brooke Univ Hospital NY
UT Medical Branch TX
Veteran's Admin Hospitals
Hermann Memorial Health TX
Maricopa County, Phoenix Arizona
Pima County, Tucson Arizona
Wounded Warrior Center for Intrepid
Notre Dame University
George Bush Library College Station
City of Dallas, TX
City of Denver, CO
City of Winter Park, FL
City of Orlando, FL
Bexar County, TX
Dade County, FL
State of Florida
Indianapolis Federal Building
New Jersey Highway Authority
US Postal Service
Kyle Field TAMU College Station
Darrell Royal Stadium UT Austin
US Department of Agriculture
University of Houston
Rice University, Houston Texas
Southern Methodist University
University of Miami
University of California
University of Arizona
Arizona State University
Pepperdine University, Malibu CA


Commercial

Gables West Ave Retail
BFC Realty
Bank of America
Neiman-Marcus
Busch Gardens Tampa Florida
Comiskey Park (Chicago Whitesox)
Cushman & Wakefield
JMB Property Management
Lincoln Properties Group
Northern Trust Houston
Texaco Houston, Texas
Hyatt, Inc. San Antonio
Marriott
Pitney Bowes, Inc.
Texas Utilities
Celanese Ticona
BASF
Occidental Petroleum
Huntsman Corp
LyondellBasell
Valero
Tesoro



Bird Species - We Are Experts

Pigeons
Turkey Vultures/ Buzzards
Black Vultures
Grackles
Starlings
Gulls
Blackbirds
Crows
Cow Birds
Sparrows







Click here to view our pigeon control install gallery.




Historical Structures (View all sectors)
Lincoln Memorial
Thomas Jefferson Memorial
Heritage Hall - Vancouver
Littlefield House
California State Capitol Building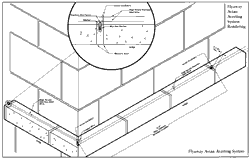 Click for enlarged view of the Avian Averting System



Commercial Bird Control, Pigeon Control, and Grackle Control Specialists. Avian FlyAway is the nation's #1 choice for invisible pigeon proofing. Our pigeon control services are trusted by highly respected organizations across America. We'll show you why!

Government and Municipal Bird Control


Lincoln Memorial


Jefferson Memorial


Wise County Courthouse, TX


California State Capitol


Federal Treasury, Wash D.C.


Stillwell Subway Station, NY

---

Educational Institutions


Texas A&M (Kyle Field)


SMU, Dallas


Notre Dame University


University of TX (Harry Ransom Ctr.)


University of TX (Galveston)


University of TX (Stadium)

---

Commercial Buildings


The Plaza - Kansas City


River Center - San Antonio


Northern Trust Bank

---

Historical Structures


Renwick Gallery


Interaudi Bank - New York


First Presbyterian - Dallas

Medical Facilities


SMU Memorial Health Center


St. Mary's Medical Center


Laguna Honda Hospital


UT SW Medical Center


UT Medical Branch - Galveston


Stony Brook University Hospital
Avian Flyaway's Invisible Electric Bird Shock Barrier
Simply the Best and Most Effective Controlling Pigeons Solution!
Air Insulated Electric Barrier lasts 2x to 3x longer.
Works Best, Looks Great, Lasts Longer, Costs Less!

Expert Controlling Pigeons, Vultures, Buzzards, and Gulls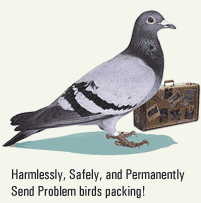 Avian Flyaway's Avian Averting System is based on the Pavlovian theory of behavior modification. Imagine an entire flock of pigeons simply flying away! Behavior modification techniques train birds to avoid your property, eliminating nesting and roosting sites. Flyaway treats WHY birds are there; not where you see them.
The pigeon receives a punishment signal similar to the static charge one gets when shuffling across a dry, carpeted surface and touching a doorknob. The discharge feels uncomfortable, but is actually harmless. The system causes the pigeons to fly away and stay away - Effective Pigeon Bird Control!.
The Avian Averting System is virtually invisible, using clear polycarbonate insulators or Flyaway's new moldable barrier strip. Aesthetics are stressed with all installations. Our systems have a low visual impact and are ecologically sound. We use no chemicals or mechanical flight obstructions that may harm the birds.
Flyaway's Avian Averting System solved a major problem, by eliminating pigeons nesting and roosting in a mechanical chiller area. No fuss, no mess and excellent results. I highly recommend the professional expertise of Flyaway.

- Patrick W. Murphy, Jr.
Biomedical Research Center, Shreveport, LA