The Best Commercial Bird Control Solution - Satisfaction Guaranteed


The New York Area's Expert Elimination of Pigeons and Bird Proofing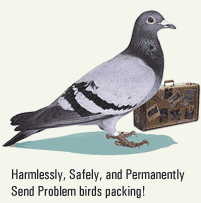 To bird proof your New York area building, Avian Flyaway's Avian Averting System is the ultimate pigeon control solution; it is based on the Pavlovian theory of behavior modification. Imagine an entire flock of birds simply flying away! Behavior modification techniques train birds to avoid your property, eliminating nesting and roosting sites. Flyaway treats WHY birds are there; not where you see them. The Avian Flyaway bird deterrent will bird proof your structures, when you want to get rid of birds our electric bird removal system is the best.
The pest bird receives a punishment signal similar to the static charge one gets when shuffling across a dry, carpeted surface and touching a doorknob. The discharge feels uncomfortable, but is actually harmless. AFI's bird deterrent system causes the birds to fly away and stay away.
Our bird deterrent system is virtually invisible, using UV protected clear polycarbonate insulators or Flyaway's new moldable barrier strip. Aesthetics are stressed with all bird removal installations. Our systems have a low visual impact and are ecologically sound. We use no chemicals or mechanical flight obstructions that may harm the birds. Your bird problem is solved; AFI is the commercial leader in invisible bird proofing solutions.
Avian FlyAway is the commercial bird control installation leader in the US. We bird proof your building, satisfaction guaranteed. Our invisible electric bird deterrent is simply the most effective system for bird control nationwide; it costs less, looks better, and lasts longer.
---



Avian FlyAway's Invisible Bird Relocation

> Air Insulated Open-Wire Electric Barrier

> The Best Commercial Bird Proof Solution

> Satisfaction Guaranteed Bird Control

> Custom Designed/Installed Nationwide




---